Message from the curator emeritus
Welcome to Hamamatsu Science Museum.
My name is Hiroshi Amano and I am the curator emeritus of the newly transformed Hamamatsu Science Museum.
The renovated museum has been filled with many new science exhibits,
and we plan to deliver even greater numbers of new lectures and events than in the past. We hope that you will come to experience the "look, touch, experiment, and learn" exhibits and attend the lectures and events.
In the process of experimenting with science, there are sure to be moments where bizarre outcomes leave our visitors wondering "why does that happen?"
If this thought starts to sprout and grow with a desire to know more, a "scientific mind" begins to form.
This spirit of inquiry that springs from unanswered questions generates more curiosity,
and this power then becomes the "source of scientific developments."
Hamamatsu, where I was born and raised, is a manufacturing town.
The industry that developed out of Hamamatsu has long driven Japan's industry from a foundation of new scientific technology.
I look forward to a future where people from Hamamatsu who are involved in science or launching new industries continue to make their mark in Hamamatsu and across the globe.
As the curator emeritus, I will be devoting more efforts into ensuring that the Hamamatsu Science Museum becomes a science education hub that nurtures young scientific minds and crosses age and gender borders to generate an interest in science across a wide range of generations.
July 6, 2019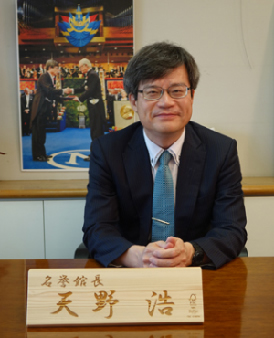 Profile of curator emeritus, Hiroshi Amano
Born in Hamamatsu City, Shizuoka Prefecture. Distinguished Professor of Nagoya University. Specializes in semiconductor engineering.
Professor Amano succeeded in inventing the high-quality crystal fabrication technology required to make the world's first blue LEDs, and was awarded the Nobel Prize in Physics in 2014.